Kitchen Renovation Sydney. Start renovating your kitchen today!
Whether you are thinking of miniature or first-class, contemporary kitchen renovation ideas to remodel your kitchen into, there are several ways you can go about this. Conceivably, you must have seen a substantial number of popular kitchen trends and want to add subtle touches to give your kitchen a contemporary look.
Simple modifications such as replacing your outdated light fixtures with modern light fixtures, changing the existing wall design with modern wallpapers, or remodelling your backsplash can create a significant change. Or, if you choose to go along with using traditional kitchen designs, you might want to stick to some country kitchen ideas instead.
There are several ways to renovate your kitchen while making sure it feels cozy.
If you want to go on with renovating your kitchen designs, try to implement some of the clever kitchen ideas that are sure to refresh any type of kitchen either a contemporary kitchen design or a country style, such as using an unconventional kitchen island and sundry which will be discussed later in this article.
Plumbing is one of the most important aspects to consider when renovating your kitchen. It contributes tremendously to the kitchen design and layout. These kitchen renovation plumbing tips are essential to ensure you have a structural and functional space to cook and entertain people.
Prolific Plumbing services is a plumbing service whose main focus is on bringing the best plumbing service to your doorpost.
Kitchen Renovation plumbing is one of our specialties, and our plumbers have years of experiment dealing with numerous renovation plumbing issues. They aim for perfection in all of their work, and they get the job done in no time.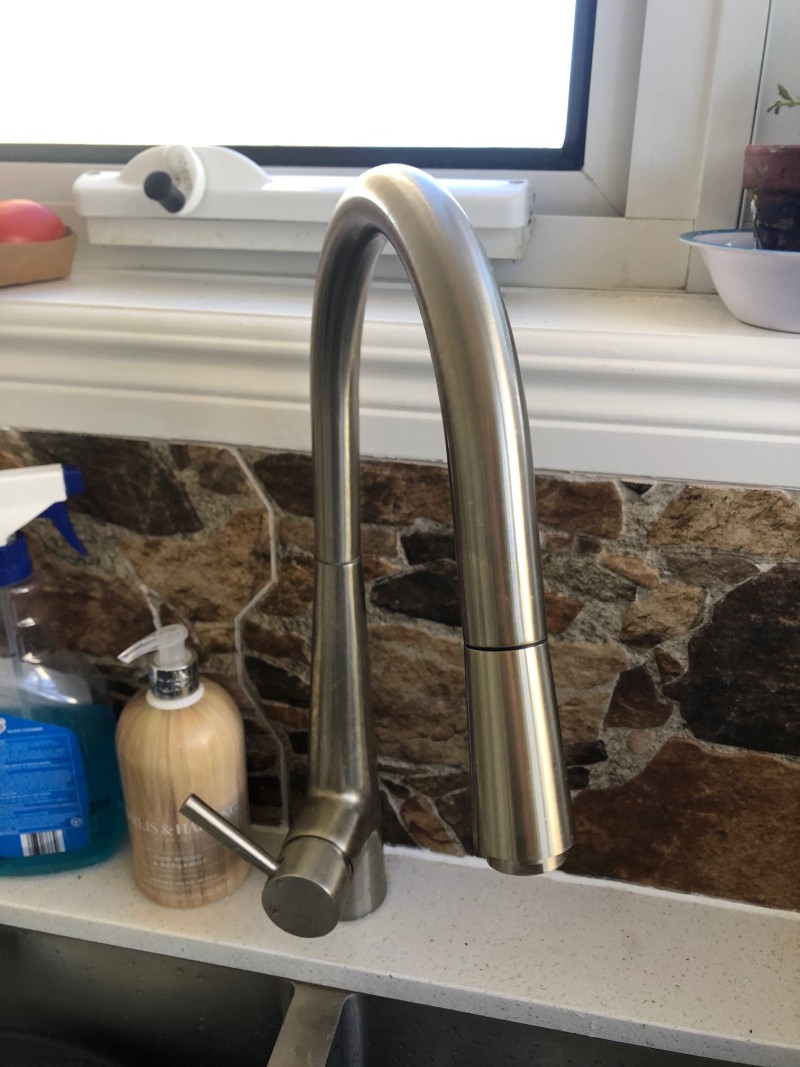 Seven Simple Ways to Make Your Kitchen Look Brand New (Without Breaking the Bank)
As we find in many relationships, things can get stale between you and your kitchen. It might look good after cleaning them but some appliances won't sparkle like they used to even after scrubbing them with so many detergents and baking soda, that wallpaper that once beautified your kitchen is now antagonistic to the beauty of your kitchen.
That backlash that once made you smile now gets you worried every time you see it. But that doesn't mean you have to pour all your money into a kitchen renovation and spend the next year eating out of a can simply because of a simple kitchen remodel. With these few steps I will discuss later in this section, it would be easy to upgrade your kitchen in no time. These small kitchen update projects can make a big impact without the need for spending extravagantly.
Now, let us delve deeper into kitchen renovation by tackling easy ways to make your kitchen look brand new without breaking your bank.
Incorporate New Lighting
Adding beautiful lighting above your kitchen island is a great way to draw people's attention to the centre of the kitchen while giving you better lighting for visibility while you are working. And if you choose well, you might be able to get modern or pendant lighting without breaking the bank.
Use Color Contrast
Choosing the right colour to use for your kitchen remodelling can be challenging, and most times, you get frustrated. Here is where colour contrast becomes a life-saver. colour contrast is just as simple as using two different colours for the top and bottom cabinets. Using a black and white colour contrast gives your kitchen a modern look. People that want an all-white kitchen design can opt-in for white and dove colour contrast if they can't decide because of how basic it is. And if you want a colourful layout, then yellow and blue is a great idea.
Replace the flooring
The flooring design is not something people consciously look at but, changing your flooring can alter the whole look of your kitchen.
Using hardwood for your flooring gives it a unique look. You could also try stencilling a design onto the floor of your kitchen to create a chic and bold patterned effect. You can check out some other flooring designs and pick what will work for you.
Change kitchen vanity
Make sure to upgrade and install a new kitchen vanity. It will look good. Out-of-box vanities are easy to install. Check out the bathroom vanity installation page for a how-to.
Upgrade Your Appliances
Modern appliances contribute greatly to every kitchen's beauty, and without this, your hard work may go to waste. Your kitchen remodelling layout will always feel weird after painting your cabinet, replacing the floor, using mouth-watering lighting design, and unique wallpaper if you still use obsolete appliances. Upgrading your appliances gives your kitchen the best look it can ever get. This part is necessary if your appliances are outdated.
There are lots of kitchen appliances to choose from. Make sure to include Flexi Hose Mixer into your kitchen renovation checklist – it will really make your life easier when you clean a kitchen sink!
Update the backsplash
Updating your backsplash appears to be a challenging kitchen renovation process. But with the help of peel-and-stick technology, you can replace your backsplash easily without the need to deal with grout.
Paint your cabinet
The cabinet is arguably the centre of attraction of the kitchen. It takes up a lot of area in your kitchen. Due to this, refreshing the paint coat on your cabinet is one of the smartest things you can do to remodel your kitchen, this brings life to the kitchen.
But there is one problem, painting a cabinet can be very tricky and tasking though there are few steps you can use to overcome this. There are two critical questions you need to ask yourself before painting your cabinet: what type of paint you would want to use and your budget for the renovation.
How to choose the right paint for your kitchen cabinet
There are two main groups of paint you can use:
Oil-based paint
Oil-based paint is made by suspending pigments in an oil-based binder, usually made from linseed oil. The oil makes the paint thicker, therefore, more difficult to spread. Oil-based paints are commonly used for painting on metals, and wood. The main difference between latex paint and oil-based paint relies on its structure, characteristics, and ease of use.
The gases emitted from the oil-based paint can be poisonous to human's health and toxic to the environment and is, therefore, a less preferable choice in home painting. Oil-based paint cannot be applied by regular brushes you use to paint, various brushes and rollers are required to apply this paint on surfaces.
Being thicker, oil-based paints take longer to dry, sometimes weeks and they are susceptible to be stained during this time. Also, the oil in this paint makes it insoluble in water, so the only way you can dilute this paint is by dissolving it in turpentine instead of water.
Oil-based paints usually have air bubbles in them, and it is important to stir them thoroughly before using them. Oil-based paints are very durable, they tend to last longer than any other type of paint and they form a smooth finished surface. Oil-based paints, a priming coat is required to prevent it from peeling
Acrylic latex-based paint
Acrylic latex-based paint can be made by suspending pigments in a binder made from an acrylic polymer emulsion. This type of paint is soluble in water, non-toxic, and flexible, this is the reason why they are most likely to be used in areas exposed to different temperatures. It is long-lasting and easy to clean.
The glossy finish makes your cabinet sheen but it may expose a lot of things. It is advisable to follow the manufacturer's instructions about the cure as this might take almost three weeks depending on colour choice, atmospheric conditions, and other variables.
Cure time refers to the duration during which the paint gets fully dry and forms a permanent surface. To check if your paint is fully cured. In an obscure area, apply pressure with your fingernail into the coating. If it shows an indent, then your paint is not fully cured. If no scratch can be found and the surface is thick, the paint has most likely cured. Latex paints dry within minutes. Curing is different from drying, so please don't mix them up. Latex paints do not develop air bubbles while painting.
Choosing between oil-based paint and latex-based paint can be difficult at times, so here are some of the differences between oil-based paint and latex-based paint, this will assist you in deciding which paint would be suitable for you.
Color: For latex-based paint, Fluorescent colours are the only colour available. while oil-based paints are only available in Prussian Blue and Zinc white.
Odour: latex-based paint smells like ammonia, yeah like urine if you don't know what ammonia smells like. It is safe but it contains volatile organic compounds which are also known as VOCs, which can irritate the eye, nose, and throat. inhaling high levels of VOCs can cause a range of short-term health problems, from headaches and dizziness to a runny nose and itchy eyes and in severe situations, it can cause organ damage.
Oil-based paint releases fumes known as volatile organic compounds(VOCs). Oil-based paints can also irritate the eyes and can cause the skin to crackle. Getting rid of fumes and the smell can be challenging. Oil-based paint dries slowly and can take up to 3 days to dry completely.
Finish: Latex-based paint has matte and glossy finishes but oil-based paint is smoother and glossier.
Time to dry: Most latex-based paints feel dry within two hours after application under room temperature. In perfect condition, latex-based paint takes about three weeks to cure. Oil-based paints are denser, and therefore take more time to dry. Oil-based paint usually takes between 7 to 8 hours to dry enough for you to apply a second coat.
It can take more than one month before oil-based paints can be completely cured. Oil-based paints should be thoroughly cured before 30 days, while oil-based paint takes days to weeks to dry.
Price: latex-based paint is 40% cheaper than oil-based paint. Oil-based paint varies based on its quality.
Durability: Latex-based paint is prone to stain. It does not peel with time making it very durable. While oil-based paint is not easily stained, it may turn yellow and crack with time.
Solubility: Latex-based paint is soluble in water and polar solvents. While oil-based paint dissolves in turpentine preferably, and also other non-polar solvents.
Six Kitchen Renovation Mistakes You Might Be Making
Before you begin your kitchen renovation plan, there are some things you have to keep in mind, you have to lay out some strategies to avoid common mistakes. The kitchen is the centre of your home, and you need to refresh its design if a need arises. The process of hiring a project manager to renovate your kitchen can be crushing, particularly for anyone without a basic understanding of the latest kitchen layout trends.
Here are the six kitchen renovation mistakes you should look out for.
Not Budgeting for The Project: This is the most crucial part before you start your renovation, and a lot of people make this kind of mistake. Your budget determines the type of materials you can afford. Using the scale of preference is also a crucial pre-renovation strategy. It will make you decide on things you want and things you don't want.
Wasting Space: Even in big kitchens, you need to consider dead spaces within the kitchen. No one wants to walk over half a mile to get a bottle of water to drink. Sometimes you might feel that your kitchen space is large enough, only to realize there is no space left mid-way to your renovation. It can be annoying and frustrating. To avoid this from happening, you have to focus on measuring your kitchen space before renovation.
Know when to Ask for Help from Professionals: It is not just about knowing alone but skill is also essential for kitchen renovations. Homeowners feel tempted to employ their creativity when they get stuck while renovating their kitchen. It won't hurt if you seek an experienced person's help. Discuss your dilemma with kitchen services or expert artisans.
Overloading The Island: If your island can't contain all the accessories you want to add, then it would be wise if you fit two islands in your kitchen. Making an island too long or designing islands with a long breadth is a bad idea as it would be stressful for you to walk around it or reach something in the middle. Overstuffing your island with kitchen appliances, sinks, and other kitchen items pose a similar dilemma. Ensure that your island storage doesn't go beyond the rim of the countertop.
Making Changes While Renovation Is in Progress: This is one of the biggest mistakes homeowners make. Make a list of your plans before commencing with your renovation. Making changes after the work begins can be damaging. You will end up spending more than your budget, and in some cases, you will end up getting stuck. You might have to destroy everything you have done to rectify your mistake.
Putting Style Before Function: Everyone wants a kitchen they can be proud of, Perhaps, you want a kitchen design you can show off to your family and friends. However, before thinking about your kitchen layout, you have to consider its functionality.
What good is a beautiful kitchen without its functionality? I would rather have a bad kitchen layout that makes my life easier than having a good layout with bad functionality.
A quick example, if you expect a single-family kitchen, you will need a smaller walkway and a smaller island. Make sure that the dishwasher is at least two feet away from the kitchen sink for easy off-loading.
For your plumbing renovation, contact Prolific plumbing. They have some of the best professional plumbers for the job and they are always available as their plumbing services are available 24/7 all year long even during public holidays and weekends.
Call prolific plumbing today and let's fix your renovation plumbing issues.