Bathroom Vanity Installation Sydney. Install New Vanity Today!
Do you need to install a bathroom vanity? Call #1 Vanity Installation Specialists! Our Oatley plumbing team from Prolific Plumbing are always there to help you with bathroom vanity installation! We are your bathroom vanity installation Sydney experts.
A bathroom vanity comprises the sink, basin, and storage that surrounds this compartment in your bathroom.
It is normally referred to as the bathroom cabinetry that is designed to hold the sink and conceal the plumbing framework associated with the much-needed storage cabinets. The bathroom vanity can comprise a benchtop which is an important feature of the bathroom vanity. This benchtop can be constructed using stones, reconstituted stone, cement, wood laminate, etc.
A bathroom vanity can be made from different types of materials but one thing they all have in common is they are moisture-resistant (waterproof) this is important as the bathroom is the biggest wet area in the entire house and if the materials are not moisture resistant it will go bad in a matter of days or weeks.
Whilst saving money on your bathroom vanity installation cost may seem to be a good idea, installation of bathroom vanity is best left for the expert artisans with experience in installing and fixing bathroom vanities. They will make sure it is well fitted in order not to face issues in the future.
Prolific Plumbing offers some of the best plumbing and bathroom vanity installation in Sydney.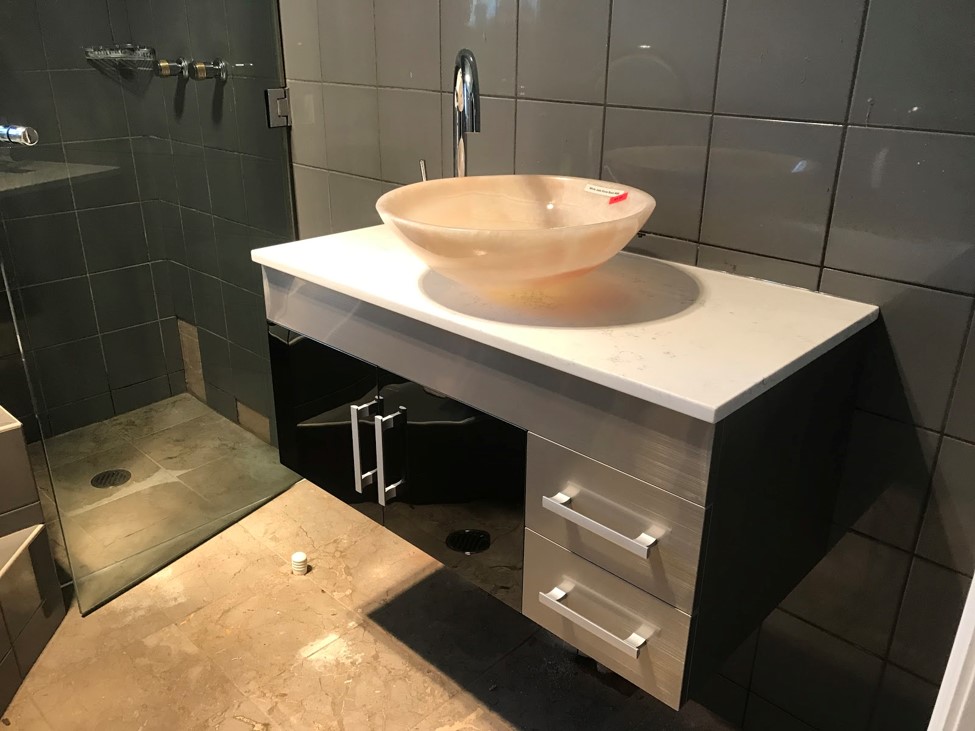 Types of bathroom vanities we install
Freestanding bathroom vanity
This is a vanity with a simple build and style sit is mostly available in square or rectangular shape that could support two sinks. It is great for a master bath.
Pedestal vanity
Pedestal vanity needs very little space and is the simplest type of vanity you will find with no space or countertop for storage. It is just a sink and basin that can fit into any type of space, it is also easy to install.
Floating vanity
Floating vanity is directly mounted on your bathroom wall and can also be called wall-mounted vanity. This bathroom vanity gives your bathroom a contemporary look, with the freed-up floor space underneath, you can add a countertop to create some storage space.
Under-mounted sink
Under-mounted sink is a built-in basin that is usually mounted below the countertop of your vanity, it has a very sleek style with a smooth appearance creating some space underneath the sink. It is quite tougher to install compared to the rest but it has a very good aesthetic appeal.
Vessel Vanity
Vessel is a type of bathroom vanity that suits your counter with a bowl that arises from the sink area. Vessels have their separate tap. You should know that the vessel vanity can be a little complicated but its intricate patterns and designs are made of metals and porcelain but this adds a lot of beauty to your bathroom.
Cabinet Vanity
Cabinet vanity is one of the most common types and it can be seen in most houses, it is much like your kitchen cabinet with pull-out and drawers which might be custom made to fit your storage needs.
Bathroom renovations
Call us today for a Quote on renovating your bathroom, we are able to assess all areas of your bathroom remodeling including waterproofing, tiling and all associated plumbing works.
With many strategies in cutting costs its worth doing your research and calling the experts, we liaise with you to assist in meeting your budget requirements and having a finished product you're satisfied with.
Change bathroom layout
Call us today to assist with your options in changing the layout of your bathroom, with so many things that are overlooked such as electrical and drainage, its best to plan your layout with professional assistance.
Fixtures and fittings
Its very important to seek professional assistance when choosing your fixtures and fittings in the bathroom. There are minimum offsets and spacing's for each toilet, restrictions with certain vanities & not all tap ware will fit where you want. So again call us today for some guidance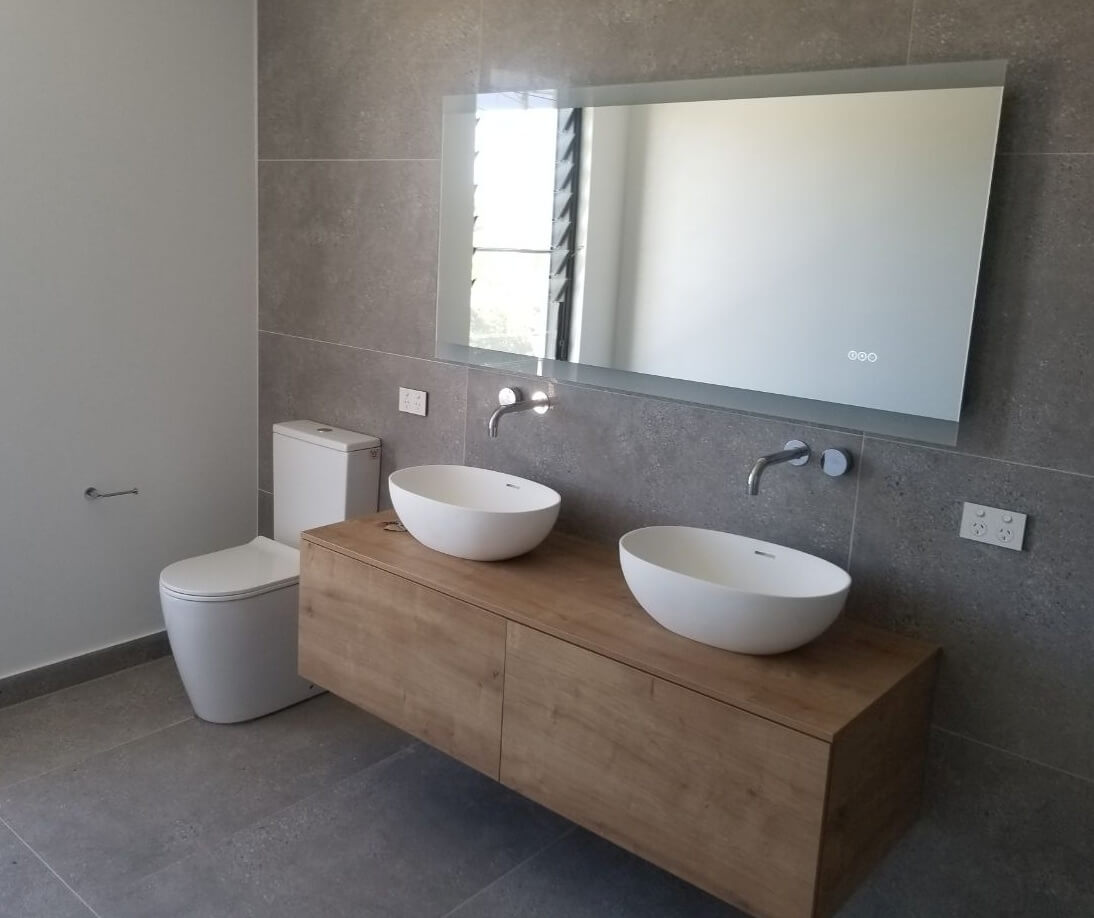 Bathroom vanity is a specially designed vanity where you can find a storage place for your cosmetics. Usually, these are placed on the floor or wall.
Their construction is based on the basic metal framework which is covered by matching aluminium or tempered glass material, with a bright panel to make sure your clothes are kept safe and secure, and your skin is fully protected by the vanity curtain.
You can choose colours and materials that you like. Installation procedure It is quite easy, but you should always take special care before opening the shower screen (by the way, we install shower screens too).
It is common for bathroom vanities to leak during a long soak, so make sure that the bathroom can be continuously aired. It is suggested to have the plumbing, electricity, and heating in perfect condition.
Prolific plumbing has one of the most experienced plumbing teams in the whole of Sydney, Australia. Prolific plumbing has been winning the heart of customers in Sydney for a while now, and we have proven we can do the job.
What's so amazing about your professional plumbers is that we only employ the best who can apply their skills and perfectly install vanity in Sydney. We have built a reputation for producing some of our clients' best services, all done at affordable prices. By the way, if you want to make sure the water from your bathroom taps is 100% clean, we can install water filter as well.
Prolific plumbing has been providing vanity installation Sydney for years now. We hope to keep building positive relationships with our customers. All our customers have been commending our good work, always recommending Prolific Plumbing and also making prolific plumbing services their number go-to for any plumbing issues including bathroom vanity installation.
Instructions for Step-by-Step Bathroom Vanity Installation
Here are some DIY steps for you if you want to fix your bathroom vanity yourself. Bathroom vanities can be difficult to fit. Often, fitting a bathroom vanity involves complicated, time-consuming, and expensive alterations to your existing bathroom. It's much simpler, more affordable, and more attractive to have a brand-new bathroom vanity unit installed. Follow these simple steps to install a bathroom vanity:
Tools used to install bathroom vanity
Tape measure
Drill with screwdriver bits
Pencil
Stud finder
Level
Jigsaw
Coping saw
Small profile gauge
Caulk gun
Here is how to install a vanity
Instructions for Step-by-Step Bathroom Vanity Installation
Locate the wall studs: Firstly, use a stud finder to locate the wall stud. Mark the middle point. Find the second stud, these studs are always 16 inches apart. Studs are used to hold up drywall on walls and wood on the exterior walls. Most electrical components for the vanity must be attached to the stud on one particular side.
Set the bathroom vanity: First, measure the sides of the vanity both the sidewall and back wall, then use a level to mark the position of the measurements of the vanity sides on the wall. Place the vanity in position and ensure that the vanity is in the correct position and if it is not use wood shims to place it in position then drive a 2-inch drywall screw through the vanity. Use a filler strip where necessary.
Inspect the side gaps (For sidewall installation): Inspect the side gaps and if there is a gap between the vanity and the wall, use a wood filler strip that fits perfectly into the space to cover up the gap.
Cut a filler strip into the size of the gaps between the sidewalls and frame. You can use either a table saw or a jigsaw or a circular saw. Trace the gauge by using a small profile gauge and pencil so that you can repeat the process. Attach the strip to the vanity with a screw.
Anchor the side of the vanity to the sidewall
Install the vanity top.
Connect the plumbing: This is a very important part. It usually comes with a manual guide.
Install the backsplash: Backsplash is usually fixed with the vanity but in some, it is separate. To attach it, use silicone caulk to the back of the backsplash. By the way, check out these awesome vanity backsplash designs.
Caulk the joints: Apply caulk to the backsplash to where it touches the wall and where it connects with the countertop.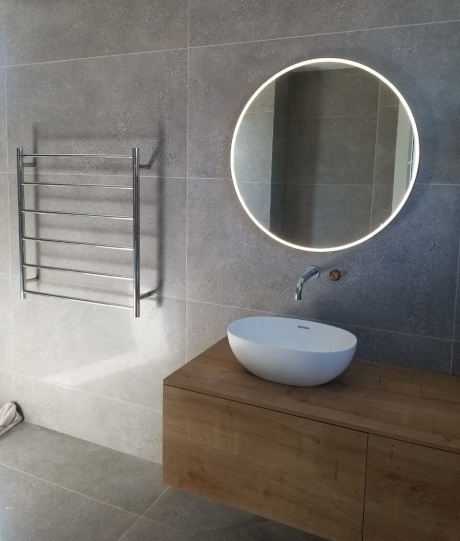 As simple as these steps are, they are not, as there are a lot of different factors to consider when installing vanity that you must consider.
Here are some of them:
Get your vanity unit
This is probably the easiest part of the process! Whether you're using the space for storage or vanity, you can purchase a vanity unit designed for your requirements. Your bathroom will look less cluttered if you choose a bathroom vanity unit that fits in with your bathroom design. In Sydney you can buy a good vanity unit from Bunnings (they offer many different designs to choose from) or order a custom unit tailored to your bathroom.
Get your construction materials
Picking the appropriate materials will make the work faster and easier. The most important material we need is a wood shim, the best wood that can be used for bathroom vanity is plywood. Plywood is made from thin sheets of wood materials glued into layers that form sheets. Quick-dry glues, softwoods, and voids are found between the layers.
There are over 18 types of plywood but the best plywood used in interior decorations is "moisture-resistant plywood", also known as commercial plywood, moisture-resistant plywood is used extensively in interior decorations because of its good resistance to moisture in moist and humid conditions, however, it's not waterproof.
Another type of plywood is boiling waterproof ply, it is better for humid weather conditions, its water-resistance properties make it one of the best kind of wood used for bathroom vanity and lastly, we have the marine ply, it has the strongest water-resistant property, that's where it got its name. When thinking of the thickness of plywood, we have several others, we have 3 ply, 5 ply, and multi-ply (it usually contains 7 or more ply).
When considering plywood we also consider their grades, we have 4 grades of plywood, we have A-grade, B-grade, C-grade, and D-grade. A-grade plywood is perfect for pieces of furniture and cabinets like the bathroom vanities, B-grade is the best for pieces of furniture also just like A-grade but it has lower quality when compared with A-grade, the C-grade plywood has lower quality when compared to its counterpart, the B-grade, it has few discolorations and its un-sanded with minor knots and D-grade has the lowest quality among the plywood, so when considering picking plywood, we should consider A-grade plywood.
We also have to consider sizes and costs, the price of plywood depends on its thickness, sizes, type, and quality of your desired plywood, the price ranges from 5 dollars per sheet to 12 dollars per sheet.
Next, we need a drywall screw. When buying a drywall screw, we have to consider its length which is the most important feature in selecting a suitable drywall screw. For 1/4-inch drywall, use 1 inch or 5/4 inch drywall screws, 1/2 inch drywall, use 5/4 inch or 13/8 inch drywall screws, and for 5/8 inch drywall, use a 13/8 inch or 2-inch drywall screw. Another feature we need to look at in drywall screws is the drywall screw threads, when using drywall screws on bathroom vanities, we need to consider its thread because it's one of the most important qualities, it will determine efficiency and the life span of the bathroom vanity.
Coarse thread drywall works best for wooden materials it gives the best grip any drywall screw can ever offer, we also have fine thread drywall screws, they work best for metal studs, this type of drywall screw can pass through any metal, fine thread drywall screw works best because they are self-threading, the fine thread drywall screw does not hold well in wood studs, so when picking an appropriate drywall screw, its preferable to choose coarse thread drywall screws for wood studs and fine thread drywall screws for metal.
Some other factors to consider when fixing your bathroom vanity
Faucets
When considering a faucet to use for bathroom vanity you will need to look at some factors, such as the opening of the faucet, the extra features you want, the size of your bathroom, and your budget. We have several types of faucets, we have single-hole faucets, widespread mounts, wall mount faucets, and center-set faucets. If you are replacing an existing faucet with a new one or installing a completely new sink ensemble, be sure to use the perfect type of faucet for the opening in your sink. Let's discuss the type of faucets.
Single-hole faucets
Single-hole faucets combines the balance of hot and cold water in a central control system, it has one handle, it is better than its double handle counterpart because it prevents burns since even if the temperature is at the highest, a little volume of cold water will mix with it to give a desirable temperature. The single-hole faucet uses two mechanisms: the turn-around valve and the pull-out valve.
The Turn-Around Valve
The Turn-Around Valve uses a long rubber tube, in the rubber tube there are two smaller tubes 1 mm apart, they contain the cold and hot water separately, the end of the smaller tubes has a rectangular opening to the exterior. When the faucet is off there is no water movement in the smaller tubes, by turning the faucet handle, you move the seal that stops water from flowing into the cold-water tube, this causes chilly water to flow from the shower. As you continue to turn the handle, the hot water seal also opens which results in mixing the hot water and cold water, the further you turn the hotter water is added putting you at the mercy of your thermostat.
The Pull-Out Valve
The mechanism of the pullout valve is simple, the handle is attached to a metal rod which is attached to another tube made from plastic, the plastic tube contains hot and cold water, the far end of the plastic tube has two openings, one for hot water while the other for cold water. By turning the handle either to the left or the right you will increase the hole overlap for one of the tubes, either the hot water or cold water, and reduce the hole overlap in the other.
so when picking your single-hole faucet either the turn-around valve or the pull-out valve, choose something you will be comfortable with. We have different faucets sizes, colors, and designs, when installing your bathroom vanish, make sure you consider using a facet with a beautiful texture, size, and design.
Sink Drain Assembly
When using a bathroom vanity, we need to consider water drainage, there has to be a system that will carefully convey water out of the basin and make sure the rate at which the sink drain the water is optimum to avoid water from filing to the brim and pouring on the floor, nobody wants that right? A sink drainer also prevents junks from slipping into the sink and blocking drains that lead the water to the sewer system, which can cause plumbing issues.
A sink drain is usually stainless steel with holes in them or meshes which is used as a cover at the bottom of the sink, where the water goes to the exterior. This is important because the type of sink drain you choose to use will determine if you will suffer plumbing issues in the future or not.
When choosing a sink drain, we need to pick the sink drains that are easy to install and something with very little porosity.
Water supply tube
The water supply tube is a very important material for bathroom vanity installation. They convey water to the exterior. A very good quality supply tube is needed in order not to face plumbing issues. In the future, selecting the supply tube with the favorable material is essential for uninterrupted water delivery. The following are materials used in water supply pipes.
First, we have copper pipes, they are most commonly used for delivering hot and cold water, they work in both underground and above-ground applications, they are ideal for bathroom vanities.
Second, we have PVC, PVC stands for polyvinyl chloride, PVC is ideal for cold water distribution but its not ideal for hot water because it can melt under high temperature, in many houses, PVC delivers cold water while CPVC is used for hot water, let's talk about CPVC.
CPVC stands for chlorinated polyvinyl chloride, this kind of pipe can withstand heat of about 82.2-degree Celsius so it's used for both cold and hot water.
Finally, we have PEX, which stands for cross-linked polyethylene. It has high resistance to cold and hot temperatures. Since it's ideal for both hot and cold-water distribution it is widely used in homes, it also has a very interesting feature, it has a lifespan of about 50 years. PEX has widely replaced copper and other plastics used in conveying water, and the funniest aspect is that they are cheaper and easy to transport, this makes PEX the most ideal water supply tube.
Silicone caulk
A silicone caulk is one of the best caulks for bathroom vanities because of its waterproof property, it can be used to seal part of the vanities that can be joined together by hammering a nail through it.
There are a lot of different things to consider when installing your bathroom vanity and it is advisable you leave it for the professionals else you could end up doing a bad job.
Why should you pick Prolific Plumbing?
We have a very friendly team from customer care to professional plumbers that will work on your building. Everyone treats the customer in a friendly and respectable manner. You should know in Prolific plumbing, our customer comes first, and we do everything in our power to make sure we offer you the best plumbing services.
We are very transparent about our services. We don't have any extra charges for our services. We let our customers know every step of the way we are very upfront with our pricing and services, and we communicate everything as we go.
We have a proven track record with all our current customers for different parts of Sydney. Most of the time, we don't need to talk so much about our plumbing service because our work does the talking for us. We have a long history of plumbing services, and through that time, we have been able to build some of the best plumbing servicing company.
All our services are licensed and insured because we care about your safety and peace of mind. We invest heavily in our staff and give them the best of training, give them access to get licenses and accreditation to provide the services in the most professional way possible.
We have very competitive fees as our service fees are designed to have high value for every dollar you spend. Which a pricing structure and also prices free estimates.
Twenty-four hours of plumbing services all day long, all year round. This means that any day you need plumbing service anytime, Prolific plumbing will always be there to pick your calls and come help you fix the issue.
Call Prolific plumbing anytime you want to install or fix your bathroom vanity, we offer the best services in Sydney and are always available to help as to contact are always available, our services are also always available as we offer 24/7 plumbing services all around Sydney Australia. We look forward to hearing from you!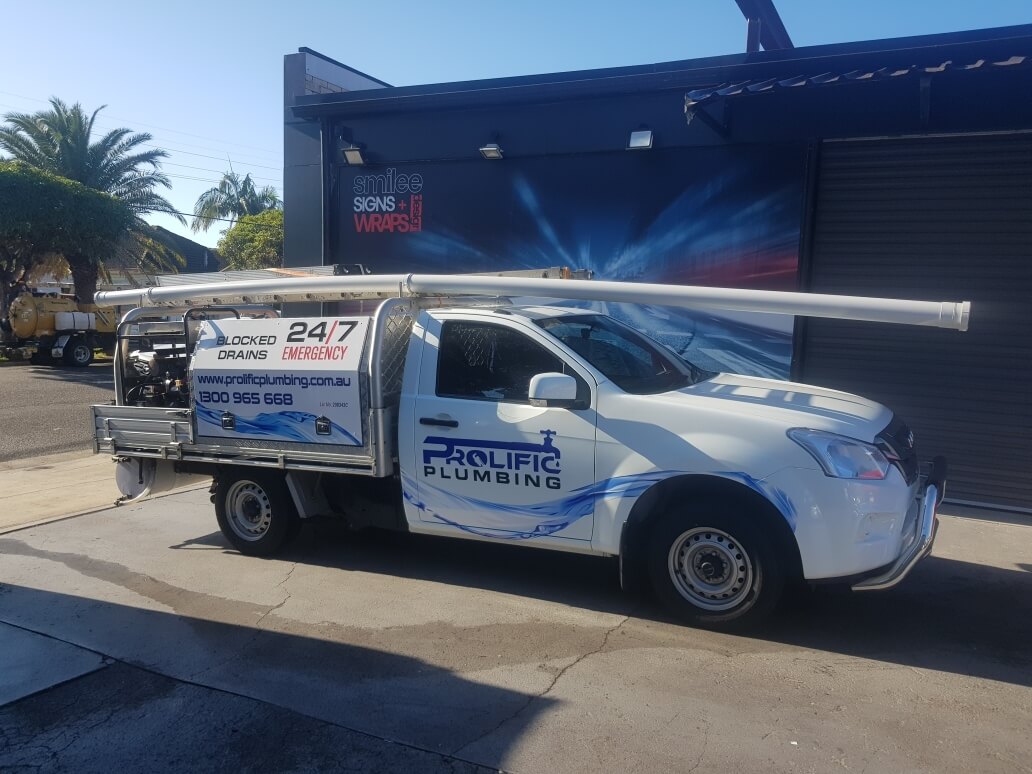 Truly, locally based in Oatley. You get the fastest response whenever you require
Upfront costs, no hidden charges
Superior equipment to most plumbers
All the services are fully insured and licensed
Highly trained and certified plumbers having great communication skills
Emergency service is available 24 hours
Our emergency service ensures a quick and efficient job, just on a single call from your side
We strive to get you the excellent outcome with 100% guaranteed service